---
Just a reminder: It's okay to leave comments!
---
UPDATE: I was at the reception on Saturday, and it was well attended. If you missed it, that's okay since Deanna's art will be featured through the end of this month. Her works are selling, however, so you might want to hurry!
---
This post is about an artist friend who is having a meet-and-greet this weekend.
We've know Deanna for a few years and have come to really enjoy her work. So every time she is the artist of the month at the
Loft Gallery
where she displays her work, I'm going to tell you about it! She's fun to talk with, whether it's about art or any other subject. And you may even find her working on a picture if you stop by the gallery.
From the
Loft Gallery
website: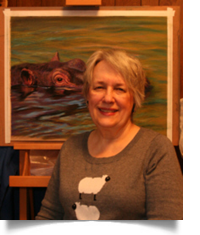 Deanna Boling
Deanna Boling (Pastels) is a signature member of the Pastel Society of America. Her love for the medium started when she enrolled in her first classes at the Art Institute of Chicago at age 10. Although she has worked in many media, she prefers pastels for their immediacy, control and portability, with graphite as a close second. Since her primary subject matter is animals, her sketches from life must be quick. Reference photos and research back up any details she may need for a painting, such as the shape of a paw pad or the color of an eye, but observation from life is key.
Painting wildlife is her passion. Bringing to life the animal beneath the fur or feathers is an energizing experience each time. Deanna paints in a realistic manner, distilling the essence of the animal and seeking to create an intimate relationship between the viewer and the animal by capturing the feel of the fur, the flutter of a feather, the grace of a gesture or some nuance of behavior.
Still-life paintings and urban landscapes are other areas where Deanna likes to work. She has even included birds in still-life settings, dubbing them her "not-so-still-lifes". The live animal becomes an actor on the stage relating to the surrounding props and narrating the scene.
While she draws many types of wildlife, this show will focus on birds.
Here are the details:
Dates:

Tuesday, November 5 through Sunday, December 1, 2019
Meet-The-Artist-Reception:

Saturday, November 9, 2019 – 1:00-4:00pm.
Here a link to the Loft Gallery website. This is a link to samples of her work.
I'll be there myself sometime on Saturday, so I hope to see you there! And, no, they don't pay me for promoting her. If they would like to, however, I won't stop them!
---
© 2019 K. R. Smith All rights reserved