---
Just a reminder: It's okay to leave comments!
---
It's getting close to Christmas which means all those traditional Christmas stories are starting to make the rounds. My favorite is
A Christmas Carol
by
Charles Dickens
. I try to see a version of it every year.
This year was special. Marie (my better half) and I were fortunate enough to get tickets to see
Gerald Charles Dickens
, the great-great grandson of
Charles Dickens
, perform the story live. The one-man-show took place in the old Ebenezer Baptist Church in the little town of
Occoquan, Virginia
(
not
the current EBC facility in Woodbridge, Virginia).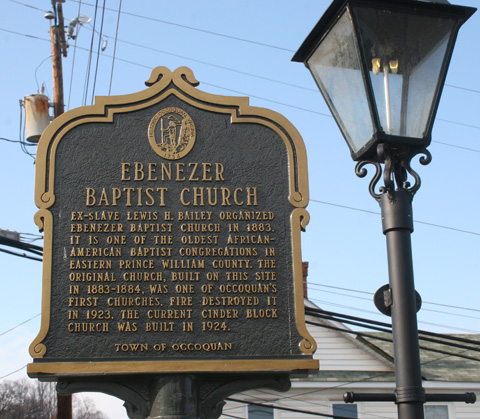 Historic marker for Ebenezer Baptist Church, Occoquan, VA.
The church is not large, but Gerald does two shows the same day to accommodate as many people as possible. The shows are sold out months ahead of time.
The performance lasts nearly 90 minutes, and the audience is encouraged to participate. Many of those in attendance had seen the show several times and knew when to pipe in. Gerald changes voices and demeanor for each character, so even those not entirely familiar with the story would have little difficulty following along. Once the show was over, Gerald waited at the exit to the church to shake hands with the audience and wish them a 'Merry Christmas.'
Afterwards, many walk up the street to
The Golden Goose
where autographs and pictures may be had (for free). The Golden Goose is a Christmas shop with every sort of decoration imaginable on display. I had a small copy of A Christmas Carol and the flyer for the play which Gerald signed.
Autographed flyer for A Christmas Carol
Marie had an illustrated version of the story and a flyer to be signed. And we took several pictures, of course. While no pictures or other recordings are allowed during the show, he more than makes up for it afterward! He was very accommodating and never rushed anyone, often signing multiple copies of books and allowing many pictures by each person or group to be taken during the autograph session.
Gerald Charles Dickens signing Marie's book
Mr. Dickens posing with us for a picture
We thought the show was great and are hoping to attend again next year. We must remind ourselves to mark the calendar, however, as the tickets sell out so quickly! Please note that Gerald does shows around the country (and also in England) so you don't have to be in Virginia to see him. If you enjoy the story and happen to be near where one Gerald's performances take place, consider seeing it for yourself. I think you'll find it enjoyable!
In addition to his web sites, you can find Gerald Charles Dickens on Twitter at
@

DickensShows

.
---
P.S. It would be great if you could check out
Terri Deno's Patreon site
and, perhaps, consider supporting her writing efforts! Struggling authors need all the help they can get!
---
© 2017 K. R. Smith All rights reserved